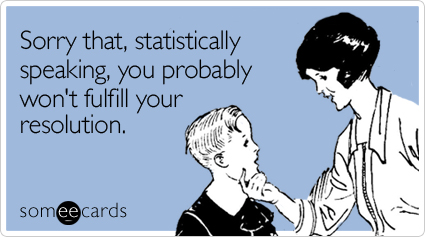 Here are my resolutions from
last year
. How did I do?
Blog Makeover: SUCCESS. I changed my blog layout in 2012 to one that I enjoyed for the year. I have already changed my layout for 2013 as I get bored with it and need to change it every now and then.
Health: SUCCESS. I accomplished a lot in the eating department and how good I eat. I did eat unhealthy at times during the year, particularly when my dad was sick and taking care of myself wasn't a priority from me. My
eating lifestyle
has changed quite a bit. While I don't consider myself a full-blown vegan, I do enjoy a mostly vegan lifestyle. I started exercising in the Spring and going to Zumba multiple times a week but then again, when my dad got sick, I didn't care about myself anymore. I have since started going back to the gym since December 3rd.
Not Weigh Myself: FAIL. I'm too curious and it's always been an obsession. I think it always will be.
Facebook: FAIL. I was supposed to be more interactive on FB but I'm going to give myself a fail on that one. I guess I don't enjoy FB that much. So much drama, bragging, bitching, politics that I choose not to participate much.
See a Broadway Play: FAIL. I failed on purpose on this one. There were a couple of plays in May/June but I didn't have much interest after all. It wasn't until December that the next Broadway play I had interest in was here and with the holidays and a very short run, it was too hard to make the commitment.
Birthday Cards: SEMI-FAIL. I started off good and you'll see there's a theme going on. When my dad got sick, I probably didn't even realize when someone's birthday was.
Dinners with my Sister: FAIL. I'm going to give her the blame for this one. We did make it out a couple of times without kids or partners though.
Organization: SUCCESS. I love organization and while I have a lot of stuff, I'll always be organized and constantly getting rid of stuff and organizing some more.
What are my resolutions for 2013?
Go to Chicago. It's ridiculous that I haven't been there in over 9 years considering how much I like that city and how close it is.
Take an out-of-state road trip. The longest road trip I've ever been on is to the Black Hills in South Dakota. I want to take a road trip or equal or longer length. This will be pending on M's PTO schedule.
Spend more time with my nephews Keith and Colton. Keith is at a fun age right now to interact with and Colton is getting older where he's starting to talk more.
Try not to be a backseat driver. This one will be really hard and I really think I'm helping the driver and it does come from a good place but apparently I'm not helping. I know this because M seemed to want to punch me in the face recently while in the car and it's not the first time it's happened. Sorry, M.
Introduce my mom to new things. I can only do as much as she wants to do but I'm hoping she'll get to experience some new adventures this year.
Get engaged. I know I have no control over this one but I feel like it's now time that I care about it more than I have before.
Take care of myself in every.which.way.
I wish you all a wonderful 2013.